A music veteran of many genres, including punk, alt-country, and roots rock, Alejandro Escovedo played The Magic Bag on February 21, 2014, as part of an eight-show tour with Peter Buck, best known as a member of R.E.M.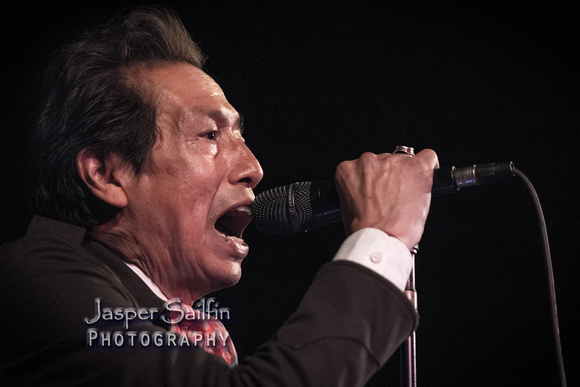 Peter Buck and band opened the night with a loud, energetic set that included "(You Must Fight To Live) On The Planet Of The Apes." Buck's band featured long-time collaborators Scott McCaughey (Young Fresh Fellows, Minus 5) on bass and guitar, drummer Bill Rieflin (Ministry, R.E.M.), and guitarist Kurt Bloch (The Fastbacks, Young Fresh Fellows).
Halfway through their set, Rieflin stood up and leaning over his kit to announce a broken snare. The next song was played on toms only while the crew made a hasty repair.
There was a looseness to the opening set and the various members seemed to be having fun taking turns leading the charge, though mostly that fell to Buck and Bloch.
After a brief break to add mic stands, Alejandro Escovedo emerged with Buck, Buck's band, and Susan Voelz (Poi Dog Pondering, Alejandro Escovedo) on violin. Voelz's violin added warmth and emotion to the early Escovedo set, including the beautiful "Sensitive Boys," written by Escovedo and Chuck Prophet.
While the early set featured Escovedo's songwriting, the show's intensity seemed to shift with "Sally Was a Cop." Suddenly there was more energy both in the crowd and onstage. Escovedo's voice and guitar intensified, but is was Kurt Bloch who really added sizzle. Bloch stayed at his station on the far left, but when Escovedo called, Bloch met him at center stage and delivered. Voelz did as well on violin. Both Rieflin and McCaughey were solid contributors but got fewer true solo moments.
Fans near me were high-fiving and even exchanging kisses when the band kicked off "Sweet Jane" by the Velvet Underground near the end. And they were still excitedly congratulating themselves when it ended.
Buck mainly took a backseat to Escovedo during the show, except when the two shared the center mic during the encore.
Both front men were quickly at their respective merch tables to meet with fans.
Click photo for full Alejandro Escovedo galley:
Click photo for full Peter Buck galley: